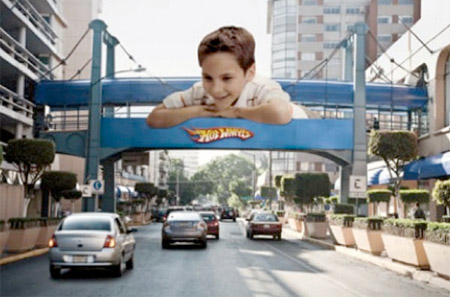 Advertising is constantly changing, and in order to be at the front of the pack, companies need make sure that their advertisements really stand out. Creative advertising is the key to ensuring that the public see your advert, and you can really make a difference by going outside. The scope for advertising outside using creative templates has never been larger, and you can get your products or business noticed by using creative campaigns combined with modern social trends. Using ideas such as street arts, graffiti and internet 'memes' can give your advertisements the edge.
Creative outdoor advertising doesn't have to be expensive, but if you want to create an impact then shock and amazement should be the chief focus points of your work. For example, you may want to follow in the footsteps of the Martor Solingen razor company, who created a shocking image of a large razor with rubber portions of pigeons scattered on the ground. This was designed along with a slogan which said "Extremely sharp". Other adverts, such as those promoting Ravensburger Puzzles, have used common features of the modern landscape to produce eye-catching images. The puzzle advertisement used rubble from a building demolition, combined with an over-size image of a puzzle box, to promote their products. The Kill Bill advertisements placed blood-coloured paint in an arc from the advertising billboard onto the road below, even leaving a 'car shaped' space in the parking bay nearby. In order to provide shock to the viewers, an anti-smoking campaign used cigarette butts to fill a set of glass lungs, demonstrating the effect that smoking has.
Other creative outdoor advertising campaigns have encouraged participation with the adverts. For example, the Economist advert depicted a single, large light bulb. This was illuminated by people walking underneath the bulb (triggering a hidden motion sensor), which then illuminated the board.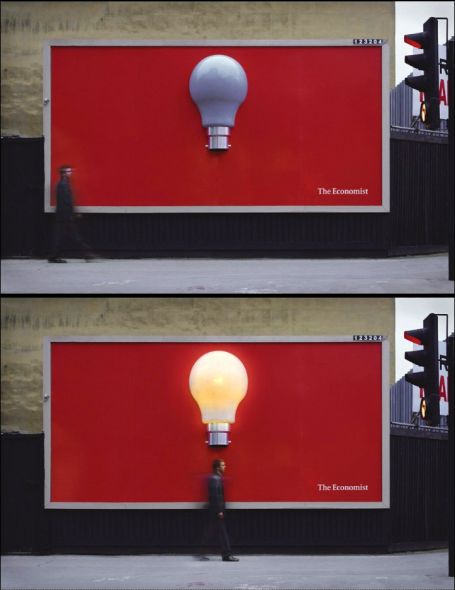 Another promotion, this time by James Ready beer, encouraged people to take a photograph of their advertisement, and then take the picture into a local shop,  "Helping you save [dollars] for James Ready Beer". By combining this advertisement with local companies, they created a winning photograph. The 'Hand from Above' billboard, which used digital photography, combined with a moving hand image on the billboard itself, to poke, flick or otherwise interact with the people walking past.
When designing creative outdoor advertising, it is important to remember that interacting with the outside world involves unpredictability. One example of the way in which advertising can go wrong is the Bic razor advert which involved a cut line of grass leading up to a 3D razor. While this looked good to start with, showing the neat trim which you might get from a Bic disposable razor, the grass eventually started to grow back, giving the 'shaved' patch a stubbly and uneven look. In order to work, this advertisement really needed to be regularly maintained.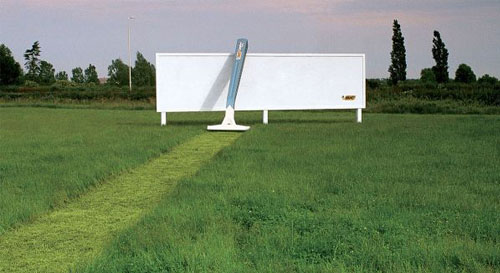 These examples of creative outdoor advertising show what can be done when companies try to think outside the box.
————
Jennifer is a guest blogger interested in writing articles about Outdoor Advertising and Marketing. She works along Picture This Advertising, a company that provides outdoor advertising solutions.
Original Post by Contributor
Creative Guerrilla Marketing – The #1 Site For Guerilla Marketing, Ambient Advertising, and Unconventional Marketing Examples.