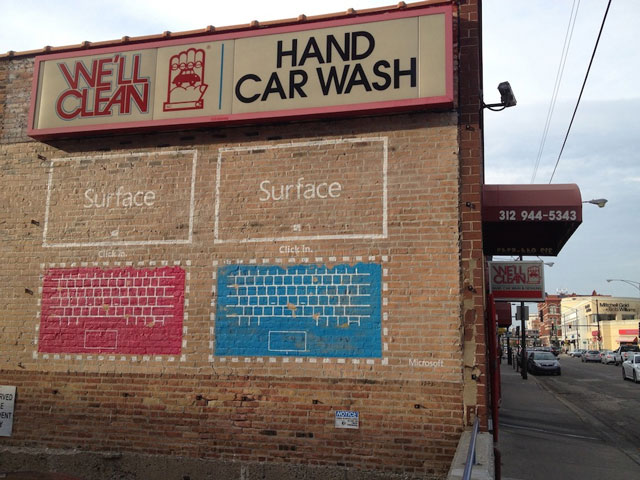 I recently read an article about Microsoft using guerrilla marketing to promote its forthcoming Surface touchscreen tablets. The graffiti – style campaign in Chicago utilized the side of an independent car wash, a large brick wall.  The aesthetics looked great, with the brick wall providing a level of 'guerrilla' authenticity something I am sure Microsoft were seeking.
It would have provided great exposure for Microsoft as well, as commuters no doubt walk and drive past this location every day, so the element of surprise would have provided some lasting impressions.  Marketing dollars are no stumbling block for Microsoft.  Therefore Microsoft using an inexpensive strategy shows the value they place in it, something small businesses should take note of and guerrilla marketers should take pride in.
All this being said however, it wasn't the aesthetic look, strategy chosen or potential cost of the campaign that got me thinking.  It was the obvious opportunity this should demonstrate to small business owners.  Microsoft clearly would have paid money to the car wash to use their wall, which is bonus revenue for the car wash.  This strategy could be implemented by small businesses often, a guerrilla marketing partnership if you will.  A guerrilla marketing partnership is a win / win scenario for both parties involved. Here's why:
Company A: In this case Microsoft
Company B: In this case Local Car Wash
Company A can use property owned by other businesses to advertise their own business for short term periods.  Graffiti art or basic messaging being the prime example.
This provides Company A with increased exposure in a local area.
Company B receives new / unexpected revenue.
Company A can negotiate with Company B to ensure the advertisement is less expensive than traditional alternatives, and financially worthwhile.
Granted, not all businesses with exterior walls would be interested in this and there would have to be logistics agreed between both parties.  However it is an opportunity where two businesses can prosper.
We've all heard of the 100 mile diet and various buy local initiatives, this isn't far off the mark, local businesses need to help local businesses.  Guerrilla marketing partnerships should be hunted by start-ups and small businesses when considering their marketing plan.  Microsoft's graffiti was a block away from an Apple store.  This immediately makes me think of this strategy being used by stores for grand openings, discount promotions and events. Restaurants could also consider it to advertise new menu's, prix fixes or private rentals around holiday seasons. The options are endless.
As an entrepreneur and someone who works in marketing, this is something I would consider for future client campaigns.
Original Post by Calum McGuigan
Creative Guerrilla Marketing – The #1 Site For Guerilla Marketing, Ambient Advertising, and Unconventional Marketing Examples.